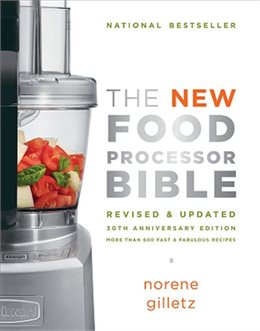 THE NEW FOOD PROCESSOR BIBLE
revised & updated
30th Anniversary Edition
More Than 600 Fast & Fabulous Recipes
Norene Gilletz
Paperback, 496 pages
Whitecap Books, $29.95, 2011
Posted by Natashya KitchenPuppies on livinginthekitchenwithpuppies.blogspot.com
18 March 2011

I don't know about you, but my food processor is one of my best friends. Okay, I have three of them; small, medium and large; but collectively they are my favourite cooking tools.
Norene Gilletz, renowned kosher cookbook author, has updated and added to her classic tome of food processor cookery and come out with The New Food Processor Bible. In this generous book you will find tips and techniques for choosing and using your food processor, as well as handy charts for all sorts of produce and even baby foods. She then goes into the more than 600 recipes, each one featuring complete nutritional analysis and extra tips and variations, a very thorough and delicious compendium.
The chapters include:
Using Your Food Processor
Appetizers
Soups, Sauces and Marinades
Fish and Dairy Dishes
Meat and Poultry
Vegetables and Side Dishes
Super Salads and Dressings
Yeast Doughs, Quick Breads and Muffins
Cakes and Frostings
Desserts and Tortes
Chocolates, Cookies and Squares
Pies and Pastries
Passover
If you are not kosher, as I am not, don't be intimidated in the least. This book is designed for the modern North American home cook and has a full compendium of recipes. You will find that a small percentage of the recipes are Jewish in origin and that is just one more interesting culture to cook from.
Let's face it, many of us have less time to get good food on the table – Norene shows us how to get the most out of our food processors, to cut time and workload and enable us to get a delicious and healthy meal on the table.
In our KitchenPuppy test kitchen, we whipped up Norene's Asian Coleslaw, a delicious and nutritious take on the classic cabbage fare. Perfect for the colder seasons and fantastic for having in the fridge for a go-to snack.
And when my husband was craving fish and chips after passing a restaurant.. I made him these Fish Patties, tender on the inside and crunchy on the outside, perfect with some homemade fries to cure that take-out craving.
And for a special weekend brunch, we made Cheese Blintzes! (Recipes below)
These were so good, we actually made them twice. I used about 1/3 whole wheat in the batter, baked them once and fried them once. Both times were absolutely delicious. I'm not sure, but I think this might have been the first time I have had cheese blintzes. I am hooked!
Try them yourself.
CHEESE BLINTZES
Blintzes are paper-thin pancakes that are folded like an envelope, then fried or baked until golden. Serve them with sour cream, Almost Sour Cream! (page 145) or yogurt and berries.
Yield: 12 to 14 blintzes. Keeps 2 days in the refrigerator. To freeze, place filled blintzes on baking sheet in single layer. Freeze until firm, then store in plastic bags. Can be frozen for about 1 month.
Basic Crêpe Batter (page 162)
Cheese Filling (page 166)
2 to 3 Tbsp butter or margarine
Prepare crêpes as directed, browning them on 1 side only, just until no moisture remains on the top, 30 to 40 seconds.
Place about 3 Tbsp filling on lower third of browned side of each crêpe. Fold bottom edge up over filling, fold in sides and roll up. (Can be prepared in advance and refrigerated.)
To fry: Melt butter or margarine in a nonstick skillet. Place blintzes seam side down in pan. Brown on all sides on medium-low heat until golden. To bake: Arrange blintzes in single layer in sprayed shallow casserole. Dot with butter or margarine; bake, uncovered, in preheated 400°F oven until golden, about 20 minutes. Serve hot.
159 calories each, 12.9 g carbohydrates, 0.2 g fiber, 7 g protein, 8.7 g fat (2.3 g saturated fat), 79 mg cholesterol, 207 mg sodium, 109 mg potassium, 1 mg iron, 66 mg calcium, 126 mg phosphorus
Variations
Use Potato Filling (half recipe, page 256). For fruit blintzes, fill with canned cherry, apple or blueberry pie filling or fruit jam. Delicious with Chicken or Meat Filling (page 257) and served with gravy. For Chinese Crêpes, place about 2 Tbsp Egg Roll Filling (page 77) on each crêpe and roll up. Serve hot with plum sauce. Do not freeze.
Cheese Filling
Yield: 3 cups filling, enough for 12 to 16 blintzes or 30 kreplach
3 cups (1 1/2lb/750 g) dry cottage cheese
1 egg yolk
3 Tbsp sugar or granular Splenda (or to taste)
2 Tbsp lemon or orange juice
steel blade: Process all ingredients until smooth, about 10 seconds.
44 calories per serving (1⁄12 of recipe), 5.8 g carbohydrates, 0 g fiber, 4 g protein, 0.5 g fat (0.2 g saturated fat), 20 mg cholesterol, 120 mg sodium, 54 mg potassium, 0 mg iron, 33 mg calcium, 76 mg phosphorus
Basic Crêpe Batter
Crêpes are a terrific way to use up leftovers and make a main course dish or dessert.
Yield: 12 to 14 crêpes or blintzes. Can be made in advance and refrigerated for 2 days or frozen for about a month.
¾ cup flour (you can use part whole wheat)
¼ tsp salt
3 eggs
1 cup milk (1%) or water
¼ cup canola oil
steel blade: Process all ingredients for 10 to 15 seconds, until blended. Refrigerate 30 minutes or overnight. Batter should be like heavy cream. If too thick, add a little milk or water.
Brush 8- or 9-inch nonstick skillet lightly with oil. Heat pan on medium-high heat for 2 minutes. Sprinkle with a few drops water. If it sizzles, pan is hot enough. Quickly pour 3 Tbsp batter into pan. Tilt in all directions to coat bottom evenly with batter. Immediately pour excess batter back into bowl.
Cook for 1 minute on first side. Flip with a spatula and cook 30 seconds on second side. (If making blintzes, cook only on 1 side.) Repeat with remaining batter. Place waxed paper between cooked crêpes to prevent sticking and stack them on a plate. Fill as desired.
98 calories each, 7.1 g carbohydrates, 0.2 g fiber, 3 g protein, 6.3 g fat (0.9 g saturated fat), 54 mg cholesterol, 73 mg sodium, 55 mg potassium, 1 mg iron, 32 mg calcium, 49 mg phosphorus
Note
In a standard-sized processor, process 1 batch of batter at a time to avoid leakage from bottom of bowl. Transfer to mixing bowl and repeat as many times as necessary. Recipe can be doubled if you have a large processor.
Crêpe shapes
To prevent tearing, crêpes should be at room temperature when filling.
Roll-ups: Either spread filling in a thin layer over entire crêpe, or place 2 to 3 Tbsp filling on lower third of crêpe; roll up into a cylinder.
Envelopes: Fold bottom edge up over filling, fold sides towards center and roll up (e.g., blintzes). Place seam side down.
Tortes: Layers of crêpes, with filling in between, topped with sauce. (Great for people who have trouble rolling blintzes!)
Wedges/Triangles: Fold in half, then in half once again. (Usually used for dessert crêpes.)