Coleslaw Mixture
1 head cabbage (about 3 lbs.)
1 green pepper, cut in chunks
3 carrots (or 12 mini carrots)
2 cloves garlic
3 green onions, cut in chunks

Marinade
1 cup white vinegar
1/2 cup sugar (see Note)
3/4 cup oil
1 tsp. salt
1/4 tsp. pepper
I've made this family favorite for years – it's a winner! The hot marinade keeps the coleslaw mixture crisp. For a colorful slaw, use a mixture of red and green cabbage.
Slicer: Discard soft, outer leaves. Cut cabbage into wedges to fit feed tube. Discard core. Slice, using very light pressure. If too thick, chop in batches on the Steel Blade, using quick on/off pulses. Slice green pepper, using medium pressure. Empty into a large bowl.
Grater: Use the mini tube if your machine has one. Grate carrots, using firm pressure. Add to cabbage.
Steel Blade: Drop garlic and green onions through feed tube while machine is running; process until minced. Add to cabbage.
Combine ingredients for marinade in a saucepan or microsafe bowl. Heat until almost boiling (2 to 3 minutes on HIGH in the microwave), stirring occasionally. Pour hot marinade over coleslaw mixture and mix well. Refrigerate.
Yield: 12 to 16 servings.
Note: Keeps about 1 month in the refrigerator. Coleslaw won't keep as long if sweetener is used instead of sugar. Some sweeteners become bitter when heated. Splenda is heat-stable and can be used with excellent results.
Broccoli Cole Slaw: Replace cabbage with packaged broccoli slaw, or shred peeled broccoli stems on the Grater, using firm pressure. Add a handful of raisins or dried cranberries, if desired.
This recipe is featured in these books & articles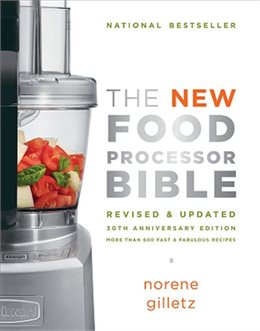 The New Food Processor Bible
Share this recipe on: