2 eggs
3/4 cup sugar
1/2 cup oil
1/4 cup orange juice or water
2 tsp. baking powder
3 cups flour
1/4 cup poppy seeds, optional
additional sugar for dipping
These easy, versatile cookies are fun to make with the kids. They're made without butter – perfect for Jewish families who don't mix meat and dairy at the same meal.
Preheat oven to 375°F.
Steel Blade: Process eggs with sugar, oil and juice or water until blended, about 5 seconds. Add baking powder, flour and poppy seeds, if using. Process just until mixed, using on/off pulses. Do not over-process.
Divide dough into 4 pieces. Roll each piece on a lightly floured surface into a rectangle about 1/8 inch thick. Using assorted cookie cutters, cut in different shapes. Dip each cookie lightly in sugar. Place sugar-side up on sprayed foil-lined cookie sheets. Bake for 8 to 10 minutes, until golden.
Yield: 4 to 5 dozen.
Tips from Norene:
Place cookies on a rack to cool. Store in an airtight container at room temperature. They keep for several weeks, or freeze 1 to 2 months.
Each cookie (with poppy seeds) contains 63 calories, 1 gram protein, 2.3 g fat, 10 g carbohydrate, trace iron, trace fiber, 14 mg calcium.
This recipe is featured in these books & articles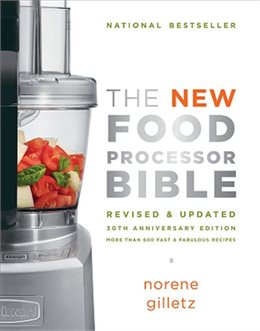 The New Food Processor Bible
Share this recipe on: