1 medium onion, cut in chunks
1 carrot, cut in chunks (optional)
1/4 cup fresh dill (or 1 tbsp dried dill)
2 cans (7 3/4 oz each) salmon
2 1/2 cups corn flakes
4 eggs (or 2 eggs plus 4 egg whites)
dash freshly ground black pepper
2 tbsp oil for frying (plus more as needed)
In a food processor fitted with the Steel Blade, process onion, carrot and dill until minced, about 8 seconds. Add salmon, including the skin, bones and juice), corn flakes, eggs and pepper. Process just until blended, 6 to 8 seconds. Mixture will be soft. (If you don't have a processor, grate or mince the onion and carrots, mince the dill, then combine all ingredients in a large bowl and mix well.)
Heat oil in a large nonstick skillet. Drop salmon mixture from a large spoon into hot oil. Flatten slightly with the back of the spoon. Brown on medium heat on both sides, until golden. Drain well on paper towels.
Freezes well. Perfect for traveling.
This recipe is featured in these books & articles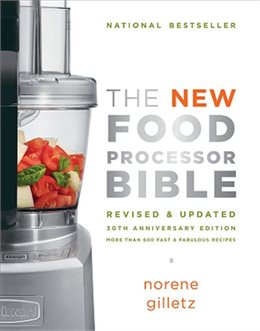 The New Food Processor Bible
Food For Savvy Family Travel
Food For Savvy Family Travel
Share this recipe on: