2 green onions, cut in chunks
2 Tbsp fresh dill
1 cup cream cheese (light or regular)
2 Tbsp honey mustard
1 can (7¾ oz) salmon, drained
2 Tbsp sour cream or mayonnaise (light or regular)
four 10-inch flour tortillas
half of a 10-oz package baby spinach leaves
grape tomatoes, for garnish
Steel blade: Process green onions and dill until minced, about 10 seconds.
Add cream cheese, mustard, salmon and sour cream or mayonnaise. Process until blended, 15-20 seconds, scraping down sides of bowl as needed.
Spread mixture evenly on tortillas. Cover with a layer of spinach leaves, leaving a ½-inch border around the edge of each tortilla so that it will stick together when rolled up. Use any remaining spinach leaves to line serving platter.
Roll tortillas up tightly and wrap in plastic wrap.
Refrigerate for at least an hour or overnight.
At serving time, slice each roll on the diagonal into 8 slices. (The ends are for nibbling!) Arrange on a large platter lined with spinach; garnish with grape tomatoes.
This recipe is featured in these books & articles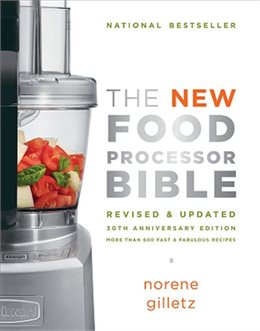 The New Food Processor Bible
Share this recipe on: