1 1/2 cups couscous
3 cups water, chicken or vegetable broth
2 cloves garlic
1/4 cup fresh parsley
1 red and 1 yellow bell pepper, cut in chunks
4 green onions, cut in 2-inch pieces
2 carrots
2 tbsp. extra-virgin olive oil
3 tbsp. lemon juice
Salt and freshly ground black pepper to taste
1/2 tsp. each chili powder, dry mustard and ground cumin
In a large mixing bowl, combine couscous with water or broth. Let stand for 10 minutes to absorb liquid. Fluff with a fork.
Steel Blade: Drop garlic and parsley through feed tube while machine is running; process until minced. Add peppers and green onions; process with quick on/off pulses, until coarsely chopped. Add to couscous.
Grater: Grate carrots, using medium pressure. Add to couscous along with remaining ingredients. Adjust seasonings to taste. Cover and refrigerate.
Keeps in the refrigerator up to 3 days.
Variations:
To turn this into a main dish, add 2 cups of cooked chicken, cut in chunks.
For vegetarians, add a can of drained chickpeas or kidney beans. Replace chili powder, mustard and cumin with 1/4 cup each of chopped sun-dried tomatoes, minced fresh basil and parsley, if desired.
This recipe is featured in these books & articles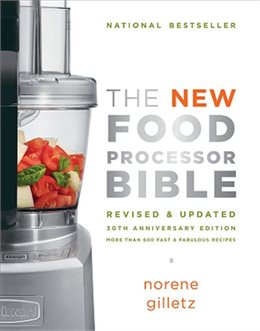 The New Food Processor Bible
Share this recipe on: