2 eggs
3/4 cup sugar
1/2 cup oil
1/4 cup orange juice
2 tsp. baking powder
3 cups flour
1/4 cup poppy seeds (for Haman's Hat's Variation)
additional sugar for dipping
These easy, versatile cookies are fun to make with the kids! If you cut them in triangles, you can call them "Haman's Hats!"
Preheat oven to 375 F.
In a food processor fitted with the Steel Blade, process eggs with sugar, oil and juice until blended, about 5 seconds. Add baking powder and flour. Process just until mixed, using on/off pulses. Do not over-process.
Divide dough into 4 pieces. Roll each piece on a lightly floured surface into a rectangle about 1/8th inch thick. Using assorted cookie cutters, cut in different shapes. Dip each cookie lightly in sugar. Place sugar-side up on parchment-lined cookie sheets. Bake at 375°F for 8 to 10 minutes, until
golden.
Yield: 4 to 5 dozen. Freezes well.
HAMAN'S HATS: Add 1/4 cup poppy seeds with dry ingredients. Roll out dough thinly, then cut in triangles using a fluted pastry wheel or pizza cutter. Dip in sugar and bake as directed. Perfect for Purim!
This recipe is featured in these books & articles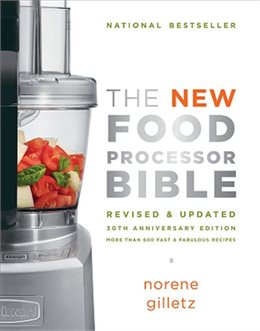 The New Food Processor Bible
Share this recipe on: