2 1/4 cups flour
1 1/4 cups sugar (can be reduced to 1 cup)
3/4 cup butter or margarine, cut in chunks
1 tsp baking soda
1 cup sour cream or yogurt
1 tsp baking powder
2 eggs
1 1/2 cups fresh blueberries
An all-time family favorite! This is a winner. It's also delicious with raspberries.
Preheat oven to 375 degrees F
Insert Steel Blade into the work bowl of a food processor. Process flour, sugar and butter or margarine until fine crumbs are formed, 12 to 15 seconds. Remove 1 cup of crumb mixture from processor and set aside.
Dissolve baking soda in sour cream or yogurt. Add to the crumb mixture in the food processor along with baking powder and eggs. Process for 6 to 8 seconds, just until blended, scraping down sides of bowl with a rubber spatula as necessary. Do not over process. Stir in blueberries by hand.
Spread batter evenly in sprayed 9-inch square baking pan. Sprinkle with reserved crumb mixture. Bake for 40 to 45 minutes, until done.
Delicious warm or at room temperature. May be frozen.
This recipe is featured in these books & articles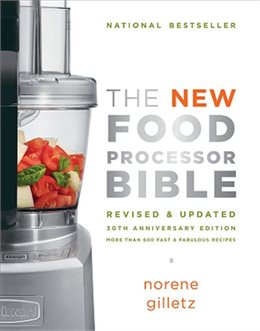 The New Food Processor Bible
Berry Special Food Memories
Berry Special Food Memories
Share this recipe on: