Crust:
18 single graham wafers (about 1 1/2 cups crumbs)
6 tablespoons soft butter or margarine, cut into small chunks
2 tablespoons sugar (granulated or brown)
1/2 teaspoon ground cinnamon

Filling:
4 cups (2 pounds) cream cheese, cut in chunks
(half cottage cheese may be used)
1 1/2 cups sugar
4 eggs (or 2 eggs plus 4 egg whites)
1 tablespoon vanilla extract (or 2 tablespoons lemon juice)
Topping of your choice
1. Preheat oven to 350 degrees F.
2. For crust: Break wafers into chunks. Process on steel blade until coarse crumbs are formed. Add remaining crust ingredients and process until blended, 5 or 6 seconds. Press into sprayed 10-inch springform pan. Wipe bowl and blade with paper towels.
3. For filling: Process cheese with sugar until blended, about 15 seconds. Add eggs and vanilla extract. Process until smooth and creamy, 20 to 30 seconds longer. Pour over crust.
4. Place a pie plate half-filled with water on lowest rack of oven. Place cheesecake on middle rack. Bake for 40 to 50 minutes. When done, edges will be set but center will jiggle slightly. Turn off heat and let cheesecake cool in oven with door partly open for about one hour. It will firm up during this time
5. Refrigerate. Add desired topping and chill for 3 to 4 hours before serving. Can be made a day or two ahead.
This recipe is featured in these books & articles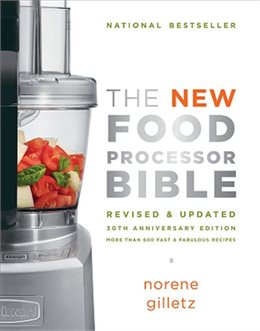 The New Food Processor Bible
THE AL DENTE BLOG REVIEWS THE FOOD PROCESSOR BIBLE
THE AL DENTE BLOG REVIEWS THE FOOD PROCESSOR BIBLE
Share this recipe on: