Meatballs

2 lb lean minced chicken
1 medium onion, cut in chunks
1 carrot, cut in chunks
1 stalk celery, cut in chunks
1 egg (or 2 egg whites)
1 tsp salt
1/2 tsp garlic powder
1/4 tsp freshly ground black pepper
1/3 cup dried bread crumbs or matzo meal

Sauce

2 cans (14 oz each) jellied cranberry sauce
1/2 tsp ground cinnamon
2 cups tomato sauce
For meatballs: Place minced chicken in a large mixing bowl.
Steel Blade: Process onion, carrot and celery until minced, about 10 seconds. Add egg, salt, garlic powder and pepper and process a few seconds longer. Add with crumbs to chicken. Mix well.
Wet hands and form meatballs. Place on sprayed, foil-lined baking sheet. Bake, uncovered, in preheated 350F oven for 25 to 30 minutes. Transfer meatballs to large sprayed casserole.
For sauce: place cranberry sauce and cinnamon in processor. Add Tomato sauce through feed tube while machine is running. Process until blended. Pour over meatballs. Bake, covered at 350F for 1 hour, basting occasionally.
Slow Cooker Method
Transfer meatballs to sprayed slow cooker. Prepare sauce and pour over meatballs. Cook, covered on High for 1 hour. Then cook on Low for 4 to 6 hours.
This recipe is featured in these books & articles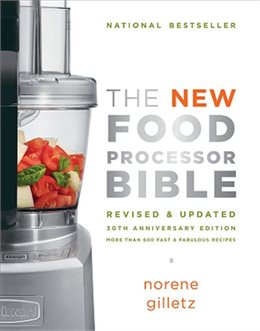 The New Food Processor Bible
Share this recipe on: