1/2 cup sugar
1 tbsp ground cinnamon
3 eggs
1 cup granulated or brown sugar, lightly packed
3/4 cup canola oil
3 cups flour
2 tsp baking powder
Preheat oven to 375F.
Steel blade: Process 1/2 cup sugar and cinnamon with several quick on/off pulses, then let machine run until well mixed. Empty mixture into a small bowl.
Process eggs, 1 cup sugar and oil until blended, about 5 seconds. Add flour and baking powder. Process with several on/off pulses, just until flour disappears. Do not overprocess.
Using about 1 tbsp dough for each cookie, roll between your palms to form a pencil-shaped roll.
Shape into twists, crescents, rings, the letter S, or any initial you wish. Roll in cinnamon sugar mixture.
Place on parchment-lined cookie sheet. Bake for 12 to 15 minutes, until nicely browned.
Freezes well.
This recipe is featured in these books & articles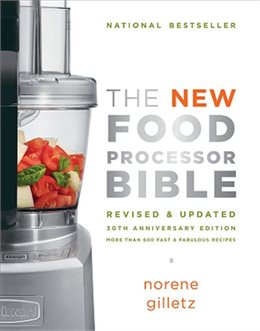 The New Food Processor Bible
Share this recipe on: