Basic Crêpe Batter (page 162 or see related Recipes)
Cheese Filling (page 166 or see related Recipes)
2 to 3 Tbsp butter or margarine
Prepare crêpes as directed, browning them on 1 side only, just until no moisture remains on the top, 30 to 40 seconds.
Place about 3 Tbsp filling on lower third of browned side of each crêpe. Fold bottom edge up over filling, fold in sides and roll up. (Can be prepared in advance and refrigerated.)
To fry: Melt butter or margarine in a nonstick skillet. Place blintzes seam side down in pan. Brown on all sides on medium-low heat until golden. To bake: Arrange blintzes in single layer in sprayed shallow casserole. Dot with butter or margarine; bake, uncovered, in preheated 400°F oven until golden, about 20 minutes. Serve hot.
159 calories each, 12.9 g carbohydrates, 0.2 g fiber, 7 g protein, 8.7 g fat (2.3 g saturated fat), 79 mg cholesterol, 207 mg sodium, 109 mg potassium, 1 mg iron, 66 mg calcium, 126 mg phosphorus
Variations
Use Potato Filling (half recipe, page 256). For fruit blintzes, fill with canned cherry, apple or blueberry pie filling or fruit jam. Delicious with Chicken or Meat Filling (page 257) and served with gravy. For Chinese Crêpes, place about 2 Tbsp Egg Roll Filling (page 77) on each crêpe and roll up. Serve hot with plum sauce. Do not freeze.
This recipe is featured in these books & articles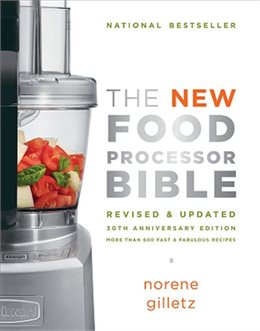 The New Food Processor Bible
Share this recipe on: