1 clove garlic, peeled
2 green onions or 1/2 small onion
2 baby carrots
1/2 red bell pepper
1 cup sour cream (regular or light)
1 cup mayonnaise (regular or light)
1 tsp. Worcestershire sauce
Dash salt
Freshly ground black pepper
1/4 tsp. each dried basil and oregano
I used this recipe in my catering business for years, with rave reviews!
Steel Blade: Drop garlic through feed tube while machine is running; process until minced. Add onion, carrots and red pepper; process until minced. Add remaining ingredients and process until blended, 8 to 10 seconds. Chill.
Do not freeze.
Variations
Eliminate Worcestershire sauce, basil and oregano. Add any of the following: 2 or 3 tbsp. grated cucumber; 1 tbsp. horseradish; 2 or 3 tbsp. anchovy paste; 2 or 3 tbsp. chili or barbecue sauce.
Substitute yogurt and creamed cottage cheese for the sour cream and mayonnaise. Increase processing time to 4 seconds, until smooth and creamy.
This recipe is featured in these books & articles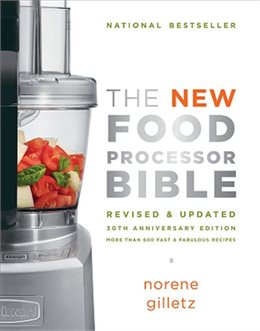 The New Food Processor Bible
Share this recipe on: