¾ cup flour (you can use part whole wheat)
¼ tsp salt
3 eggs
1 cup milk (1%) or water
¼ cup canola oil
Crêpes are a terrific way to use up leftovers and make a main course dish or dessert.
Can be made in advance and refrigerated for 2 days or frozen for about a month.
steel blade: Process all ingredients for 10 to 15 seconds, until blended. Refrigerate 30 minutes or overnight. Batter should be like heavy cream. If too thick, add a little milk or water.
Brush 8- or 9-inch nonstick skillet lightly with oil. Heat pan on medium-high heat for 2 minutes. Sprinkle with a few drops water. If it sizzles, pan is hot enough. Quickly pour 3 Tbsp batter into pan. Tilt in all directions to coat bottom evenly with batter. Immediately pour excess batter back into bowl.
Cook for 1 minute on first side. Flip with a spatula and cook 30 seconds on second side. (If making blintzes, cook only on 1 side.) Repeat with remaining batter. Place waxed paper between cooked crêpes to prevent sticking and stack them on a plate. Fill as desired.
98 calories each, 7.1 g carbohydrates, 0.2 g fiber, 3 g protein, 6.3 g fat (0.9 g saturated fat), 54 mg cholesterol, 73 mg sodium, 55 mg potassium, 1 mg iron, 32 mg calcium, 49 mg phosphorus
Note
In a standard-sized processor, process 1 batch of batter at a time to avoid leakage from bottom of bowl. Transfer to mixing bowl and repeat as many times as necessary. Recipe can be doubled if you have a large processor.
Crêpe shapes
To prevent tearing, crêpes should be at room temperature when filling.
Roll-ups: Either spread filling in a thin layer over entire crêpe, or place 2 to 3 Tbsp filling on lower third of crêpe; roll up into a cylinder.
Envelopes: Fold bottom edge up over filling, fold sides towards center and roll up (e.g., blintzes). Place seam side down.
Tortes: Layers of crêpes, with filling in between, topped with sauce. (Great for people who have trouble rolling blintzes!)
Wedges/Triangles: Fold in half, then in half once again. (Usually used for dessert crêpes.)
This recipe is featured in these books & articles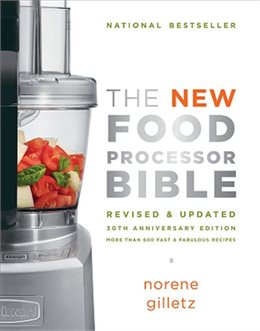 The New Food Processor Bible
Share this recipe on: