1 cup margarine, cut in chunks
2 1/2 cups flour
3/4 cup finely ground almonds
1/2 cup sugar
1 tsp pure vanilla extract
1 1/2 cups apricot jam
2 Tbsp lemon juice
1/2 cup slivered almonds
These are jam-good! You'll go nuts over them.
Preheat oven to 350 F. Spray a 9 x 13 x 2-inch baking pan with non-stick spray.
For the base: In a food processor fitted with the steel blade, process margarine, flour, ground
Almonds, sugar and vanilla until crumbly, about 20 seconds. Reserve 1 1/2 cups of crumb mixture for topping. Press remaining mixture evenly into prepared pan. Bake for 20 minutes, until golden.
For the topping: Mix apricot jam with lemon juice; spread evenly over base. Crumble reserved crumb mixture over jam layer, and then sprinkle with slivered almonds.
Bake 30 minutes longer, until golden. Cool completely.
Cut with a sharp knife into 24 squares, then cut each in half diagonally to form 48 triangles.
Freezes well.
This recipe is featured in these books & articles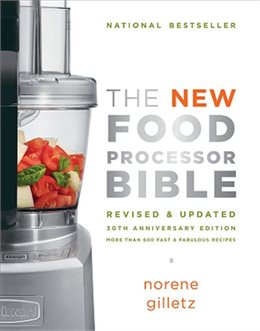 The New Food Processor Bible
Share this recipe on: