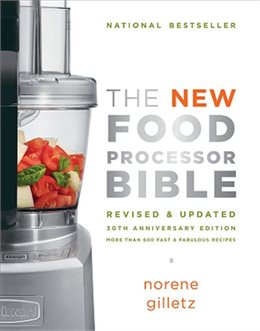 by KosherShopaholic.com
The NEW Food Processor Bible by Norene Gilletz Kosher Cookbook Review
Scroll down to the bottom to get to Norene Gilletz's Heavenly Chicken Recipe, Cranberry Chicken Meatballs and No Fry "Fried Rice" recipes!
The New Food Processor Bible, Revised and Updated 30th Anniversary Edition by Norene Gilletz contains more than 600 Fast & Fabulous recipes. It truly is the go-to book for all your cooking needs. As someone who is only a few years older than the 30 years Norene has been publishing cookbooks, I can say that I am the generation that grew up on Norene's recipes. I remember the original yellow spiral bound Food Processor Bible well from my mother's kitchen shelves and can find there many of my favorite dishes from childhood well into adulthood.
You know those amazing recipes that people know off by heart that has just been passed down to you by mouth from your mother, sister, friend, neighbor and so on? And no one knows where it originates. I can bet you that it comes from The Food Processor Bible! Take, for instance, Norene's Heavenly Chicken Recipe and Cranberry Chicken Meatballs (recipes provided below). These were my staple dishes for the first few years I was married (they are still my mother's favorite dishes when she entertains). So finger licking delicious and incredibly easy to make (especially as a newlywed who still hadn't mastered my culinary skills). I never knew what the dish was called or that it originated here until very recently.
Other well known classics are Best Ever Scalloped Potatoes, No Fry "Fried Rice", Skinny No-Fries as well as Apple Strudel, Pecan Jam Square – I can go on and on. Aside from these culinary classics there are all the dishes you would expect to find in a cookbook that teaches you how to properly use your food processor: soup of every flavor and variety, salad dressings, sauces, salsas, Kugel and Latkes of every vegetable and color, and my newest gluten-free favorite dish called Low-Carb Fried Rice.
This book really is a cooking bible while also teaching you the wonders of your food processor. Did you know that you can use it to make cake and cookie batters? Gone is my heavy, space consuming Kitchen Aid. Thanks to this Bible, my Food Processor has become my best used kitchen gadget. Some more of my favorites are Cranberry Quionoa Salad with Roasted Turkey Breast Balsamico (the turkey marinade doubles as a salad dressing!) for Shabbos lunch and Choc Full of Pecan Pie. I just love Norene's use of puns in the titles of her dishes! Another well kept secret is that Norene's mainstream bestselling cookbooks are all Kosher and full of Kosher for Passover (like Passover Wacky Franks) and Shabbos recipes (Matzoh Balls, Challah & Kugels).
If you love your food processor, are just getting used it it or never use one, I recommend this cookbook. It's one of those classics that will always have any recipe you are looking for and is so much fun to read. And if it teaches you to properly appreciate the amazing tool the food processor is, then congratulations, you have become a Master Foodie.
Norene's recipes are good with any type and make of Food Processor and she doesn't recommend any particular brand over any other. So, here are some of the best-selling/best-priced Food Processors from Amazon, the leading retail store. I personally own the Braun Multiquick 3 K650 Kitchen Machine 600 Watt and LOVE it! It has changed my cooking life for the better.
Here are some of the recipes mentioned above, posted here with permission from Norene Gilletz.
HEAVENLY CHICKEN RECIPE
2 broilers, each cut in 8 pieces
3/4 to 1 cup Italian Salad Dressing (recipe on p. 286)
3/4 to 1 cup apricot, peach or pineapple jam
1 Tbsp lemon juice
1 pkg dry onion soup mix.
Place chicken pieces in large sprayed roasting pan.
Steel Blade: Combine remaining ingredients and process for a few seconds, until blended. Pour over chicken. (May be marinated for several hours or overnight in refrigerator; turn once.)
Bake, uncovered in preheated 350F oven about 2 hours, until golden brown. Baste occasionally.
********
CRANBERRY CHICKEN MEATBALLS
Meatballs
2 lb lean minced chicken
1 medium onion, cut in chunks
1 carrot, cut in chunks
1 stalk celery, cut in chunks
1 egg (or 2 egg whites)
1 tsp salt
1/2 tsp garlic powder
1/4 tsp freshly ground black pepper
1/3 cup dried bread crumbs or matzo meal
Sauce
2 cans (14 oz each) jellied cranberry sauce
1/2 tsp ground cinnamon
2 cups tomato sauce
For meatballs: Place minced chicken in a large mixing bowl.
Steel Blade: Process onion, carrot and celery until minced, about 10 seconds. Add egg, salt, garlic poweder and pepper and process a few seconds longer. Add with crumbs to chicken. Mix well.
We hands and form meatballs. Place on sprayed, foil-lined baking sheet. Bake, uncovered, in preheated 350F oven for 25 to 30 minutes. Transfer meatballs to large sprayed casserole.
For sauce: place cranberry sauce and cinnamon in processor. Add Tomato sauce through feed tuBe while machine is running. Process until blended. Pour over meatballs. Bake, covered at 350F for 1 hour, basting occasionally.
Slow Cooker Method
Transfer meatballs to sprayed slow cooker. Prepare sauce and pour over meatballs. Cook, covered on High for 1 hour. Then cook on Low for 4 to 6 hours.
********
NO FRY "FRIED RICE"
2 cups uncooked rice
1 to 2 Tbsp oil
1 pkg dry onion soup mix
3 Tbsp soy sauce
1 green or red bell pepper, halved
2 cups mushrooms
1 can water chestnuts
1 can sliced bamboo shoots
4 cups liquid (reserved juices from canned vegetables, plus cold water)
salt and freshly ground black pepper to taste.
Combine rice, oil, soup mix and soy sauce in a large sprayed casserole. Mix well.
Slicer: Slice pepper and mushrooms, using light pressure. Drain canned vegetables and reserve liquid. Slice water chestnuts, using firm pressure. Combine all ingredients in casserole and mix well.
Cover and bake in preheated 350F oven about 1 hour, or until all liquid is absorbed.