With Simple Elegance
Welcome to the new Gourmania website!
Photo credit: Courtesy of Abe Worno - www.abeworno.com
Sweet Delights
View our delectable dessert recipes for sweet ideas.
Photo credit: Courtesy of Abe Worno - www.abeworno.com
Recipes for All Occasions
Norene's cookbooks cater to all occasions, and tastes.
Photo credit: Courtesy of Abe Worno - eyecandyto.com
Matriarch of Kosher Cooking
Norene's amazing recipes for classic Jewish cooking and baking inspire.
Photo credit: Courtesy of Abe Worno - www.abeworno.com
Food that's good for you should taste good!
Featured Cookbooks
Coming soon! Stay tuned for more information! Pre-order from your favourite bookseller.
This book is designed to help people cope with memory loss through diet.
Packed with over 150 recipes provided by well-respected Canadian cookbook author Norene Gilletz, each of which receives a solid commentary from Dr Edward Wein, Brain Boosting Diet provides both solid health and nutritional advice for people with memory loss, possible dementia, and even Alzheimer?s Disease (AD). Another important purpose of the book is to show the reader how to slow down potential cognitive decline. It is augmented with lots of unusual, but important Do You Know Health Facts: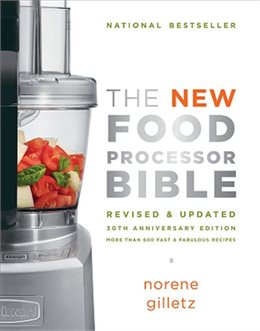 The New Food Processor Bible
The food processor is probably the best tool you can have to help you around the kitchen. It can speed up almost any dish you are preparing, and simplify those recipes you've been afraid to try. Pie crust? The New Food Processor Bible has the perfect dough ready to roll in less than five minutes. Makes perfect potato latkas in moments!
This cookbook promises to become dog-eared and food-stained within months. The recipes use readily available ingredients and are simple enough for the beginner and sophisticated enough for the well-seasoned cook. Packed with practical tips, a Daily Food Use Guide, and over 500 recipes, —from holiday dishes to those with an international flair—, this culinary bible is sure to have something to suit your taste.
The Silver Platter
Daniella Silver, an exciting new personality in the world of Jewish cooking, combines an amazing sense of style and presentation with an understanding of what makes food wholesome and nutritious and of what families want to eat. In The Silver Platter she brings us more than 160 recipes that allow us to explore new dishes, tastes, and presentations, all while keeping our families happy with great-tasting and wholesome food.
Working closely with Norene Gilletz – the "matriarch" of kosher cuisine whose cookbooks appear regularly on bestseller lists Daniella creates dishes that are a delight to prepare, to serve, and, of course, to eat.
What's Cooking
Listen to our new Podcast – Latke Love!
View our Podcasts
Favourite Holiday Recipes
Recipe Categories
Browse Videos